Opening hours for Exhibitors:       June 13-15, 2023      from 8:00 am to 6:00 pm
Opening hours for visitors:       June 13-15, 2023       from 9:00 am to 5:00 pm
Arrival and parking in the quarry:
The arrival for exhibitors and freight transport will be along the asphalt road to the right of the Velká Klajdovka hotel. Cars that will not be on the exhibition area and which you will need to drive out during the exhibition can also be parked on the driveway. Inform your contractor about this driveway.
A parking lot for visitors will be reserved on the meadow. A shuttle transport will be provided from the parking lot to the quarry, or in organized groups, you can walk from the parking lot with a person authorized by the organizer.
It is necessary to leave the driveway in front of the gate clear for minibus rides.
Entry is permitted only with a protective helmet and safety instructions must be followed when moving around the quarry (a rental of protective helmets will be set up at the ticket office upon the entry, visitors may bring their own helmet).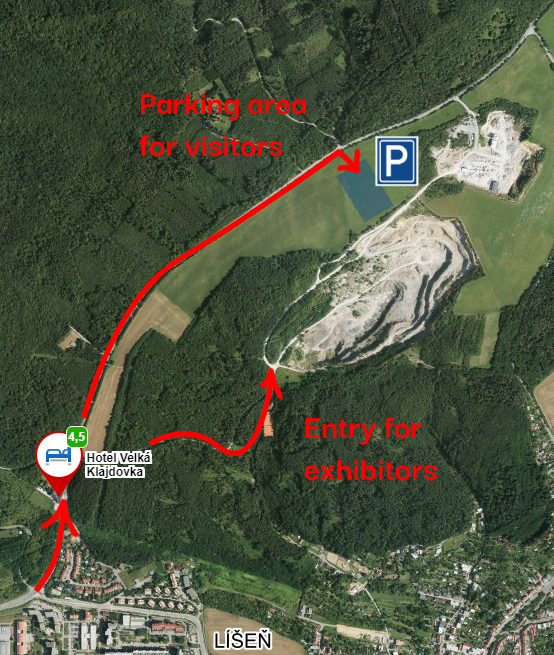 The EXPO takes place in a Limestone quarry in the forest:

Parkováni pro návštěvníky EXPO Lesní lom. Na cestu od parkoviště bude zajištěn autobus.

Access road from Velká Klajdovka.